Overview
The ACUCA Student Mobility Scheme was established in 2002, which aims to foster a better understanding of Asian Communities and culture among the students of the member institutions.
One of the objectives of the Association is to promote and facilitate in the exchange of students. Institutions that have courses taught in English during the regular semesters agreed to waive tuition and other fees from the host institution. Financial assistance from the Association comes in the form of an airfare and living allowance subsidy.
Each member institution is entitled to have a maximum of two (2) slots under the scheme in each semester.
Participating Institution
All member institutions are presumed to be a participant of the SMS. For newly accepted members of the Association, they are expected to signify their intent to join in the program by completing the REPLY PROFORMA and GENERAL MEMORANDUM OF UNDERSTANDING. These documents shall be sent to the Secretariat.
There are a few members at present opted not to participate in the program anymore, i.e., whether they stop sending outbound or receiving inbound students. In this case, termination of the agreement requires written notification of at least one year prior to the date of termination, and students already admitted to and participating in the exchange program shall be allowed to complete the program.
You may check out the full SMS Guidelines here.
Download the SMS Nomination Form here.
Download the SMS Subsidy Request Form here.
Download the SMS Memorandum of Agreement here.
Download the SMS Reply Proforma here.
General Information
The Association of Christian Universities and Colleges in Asia (ACUCA) was established in December 1976 by a group of enthusiastic Asian Christian university presidents, who under the auspices of the United Board for Christian Higher Education in Asia (UBCHEA), decided that there was a need for a formal association. Today ACUCA has grown into a network of 62 colleges and universities. The Association, through cooperation, mutual support and encouragement, endeavors to help Christian universities and colleges in Asia:
develop and maintain their Christian character
enrich the quality of their educational programs and those of the other institutions of learning
re-examine the relevance of their objectives and programs in relation to the needs of a changing society.
Currently, ACUCA has 65 member institutions from 9 countries/regions of Asia, namely Hong Kong, India, Indonesia, Japan, Korea, Myanmar, the Philippines, Taiwan and Thailand.
In pursuit of the above purposes, the Association promotes and facilitates the exchange of students among member institutions. Established in 2002, the ACUCA Student Mobility Scheme aims to foster a better understanding of Asian communities and cultures among ACUCA students.
Under the scheme, member institutions that have courses taught in English in either regular semesters or summer sessions are invited to exchange tuition waivers to enable their students to study tuition-free at an institution outside of their own country for a semester or during the summer.
Subsidies are also available to students from the ACUCA SMS member institutions.
Record of Exchange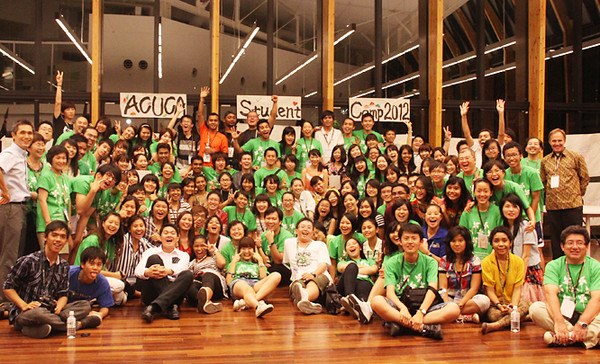 Student Testimonials
2013 SMS Report
2012 SMS Report
2011 SMS Report
2010 SMS Report
2009 SMS Report
2008 SMS Report