HANNAM UNIVERSITY JOB ANNOUNCEMENT
Hannam University
Linton Global School
Dept. of Global Media & Culture
Assistant/AssociateProfessor (Global Studies or related major)
(TenureTrack)
Position to begin: September 1, 2022
Application Submission Date:May 16, 2022
Application Submission Deadline: May 30, 2022
Hannam University is a private Christian school located in Daejeon, South Korea with approximately 15,000 students. Hannam University's Linton Global School is the first global program in Korea to be administered by an all international faculty. Students at the Linton Global School are immersed in English-only classes and live in an English-only dormitory during the week. The administration recognizes that the success of our program is dependent upon the quality of our faculty and staff. We invite your application if you are an educational professional who enjoys educating college-level adults and has a professional commitment to developing students with creativity and integrity within a sincere Christian environment.
Responsibilities:
Teach a minimum of 9 hours a week. Additional hours are paid at overtime rates.
Fulfill all research, teaching, and service requirements for tenure track positions.
Contribute to curriculum development.
Participate in faculty & staff meetings.
Offer standard office hours.
Conduct bi-annual student interviewing & advising.
Required Qualifications:
Fluency in English
Ph.D. in Global Studies or related major
Certificate of Baptism
Preferred Qualifications:
Experience teaching at the university/college level
Demonstrated excellence in scholarly activities
A history of active involvement in professional organizations
Experience with diverse populations in school settings
An understanding and appreciation of Korean culture
Enthusiasm for our mission, vision, and core values
Salary: Salary is commensurate with experience and credentials.
Please submit all documents utilizing the pop-up window message on Hannam University's website at http://www.hannam.ac.kr. Applications submitted via mail or in person will not be accepted. International applicants, please send 1) a cover letter, 2)a comprehensive CV, 3) a copy of university transcripts to the contact person below. You will be notified if you are selected as a candidate.
Contact Information:
Prof. Kitai Kim
Chair, Dept. of Global Media & Culture
Linton Global School, Hannam University
133 Ojeong-dong, Daedeok-gu
Daejeon 306-791 South Korea
kitaikim@hnu.kr
HANDONG GLOBAL UNIVERSITY, NOTICE OF FACULTY POSITION OPENING, 2022
Handong is God's institution- educating people of God through the ways of God
1. Vision and Educational Goals
A. First, Handong Global University nurtures honest Christian leaders from all walks of life who change the world for the glory of God in a spirit of love, humility, and service.
B. Second, Handong Global University fosters honest international leaders who serve their communities, countries, and the world, especially in developing countries, from a foundation of professionalism and morality.
C. Third, Handong Global University devotes itself to academic disciplines from a Christian worldview, establishes goals that are true to education, restores Biblical creationism, and cultivates competent and honest intellectuals who bring restoration to corrupt ethics and morals. (Isaiah 58:12)
2. Department and Area of Faculty Position Opening Status Department Major Openings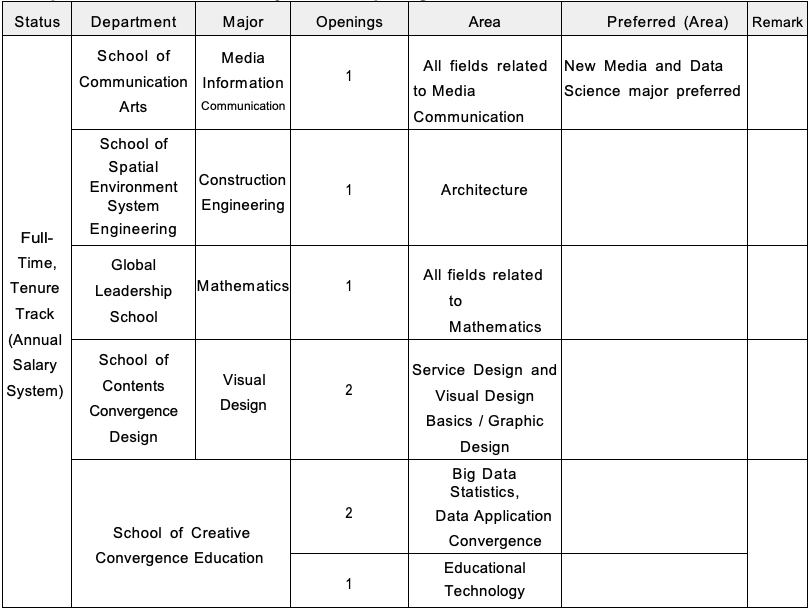 3. Qualifications
One may apply with conditions detailed below in addition to the following: being able to instruct students with a view of one's major from a Christian perspective, a whole-person education goal of our university, and understanding and participation of the evangelical Christian mind and fulfilling of such goal.
A. Application Qualifications and Preferential Treatment for Full-time Faculty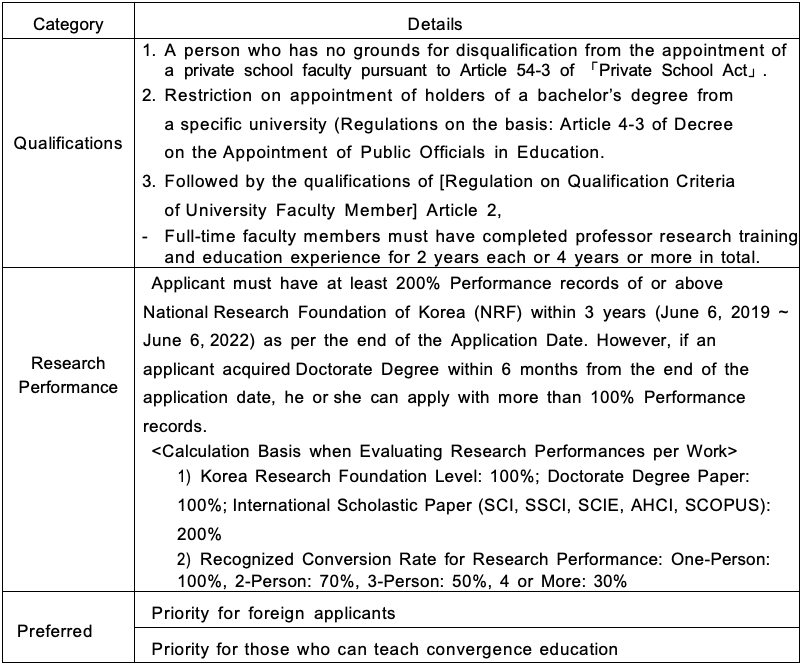 B. Exceptions for Application Criteria per School (Area of Appointment)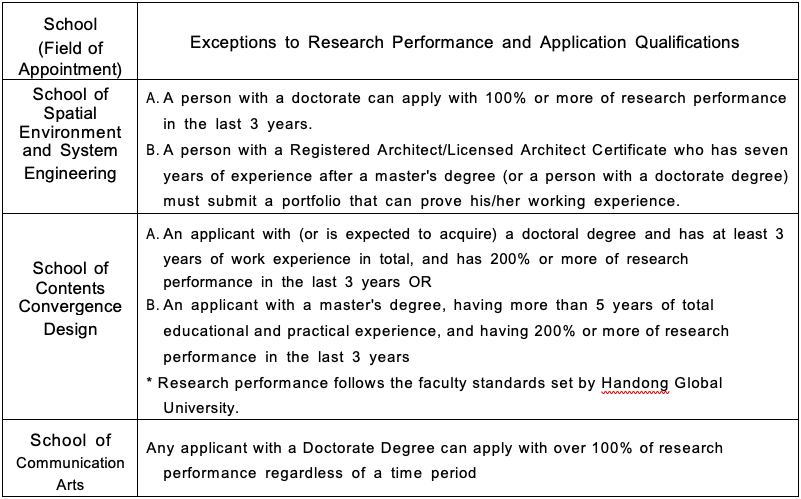 4. Documents Required
*Please submit the required documents (PDF files) below via Email (hbae@handong.edu)
One copy of the application form
One copy of transcripts and diplomas of all degrees (Bachelor's, Master's and Doctorate.)
When the applicant becomes a finalist, confirmation of all work experience must be submitted).
One copy of the license (if applicable).
One copy of the research and development performance list (title, researcher, publication date, publication paper, thesis outline).
One copy of the doctoral thesis and one copy of the thesis done within 3 years.
One copy of research achievements other than the thesis (for the last 3 years as of the application deadline) (if applicable).
Two Recommendation Forms- One Recommendation each from Major and Non-Major (Faith) recommenders.
5. Application Procedure
A. Application Period : May 18th (Wed), 2022 ~ June 6th (Mon), 2022, 05:00 P.M.
B. Submission Method : E-mail (confirmation email is returned upon receipt)
C. Selection Process : Qualification Screening >Basic Screening >Specialty Screening > Interview > Interview with the president of Handong Global University * Each stage is conducted only for those who have passed the previous stage, and the result of each stage is notified by e-mail and phone. – Evaluation of major field suitability, academic excellence, and instructor qualifications – Evaluation of school understanding, university vision, global competency, and English teaching ability
6. Others
A. The ability to embody and to teach students from a Christian perspective should be proved in the self-introduction letter.
B. A finalist's appointment can be canceled if the application form is found to be falsified.
C. Other matters not specified in this notice are subject to faculty personnel-related regulations, such as the Bylaws of Handong Global University.
7. Inquiries
For further information, please make a contact through the Office of Academic Affairs of Handong Global University.
Person-in-charge: Heejeong Bae (hbae@handong.edu)
Website : http://www.handong.edu
Tel. 054-260-1842 / Fax. 054-260-1079
Please click here to find more information and application forms.