Program Director for Leadership Development & Northeast Asia
The United Board for Christian Higher Education in Asia seeks to fill the position of Program Director for Leadership Development and Northeast Asia. The position oversees programs in leadership development & Northeast Asia and reports to the Vice President for Programs. The position may be located in the United Board's office in Hong Kong; partial remote work from other locations may also be considered.
Responsibilities:
To research, plan, develop and work with institutions and individual grantees to implement programs on leadership development efficiently and cost-effectively.
To explore potential projects with grantees that advance the United Board's mission and priorities and meet the challenges and opportunities of higher education in Northeast Asia.
To maintain ongoing contact with administrators and project coordinators in United Board network institutions in Northeast Asia through regular trips and correspondence.
To maintain expertise in the current issues and problems related to higher education in Northeast Asia.
To evaluate and recommend funding for proposed projects; to interview and recommend faculty for fellowships; to evaluate current projects, prepare reports, and approve grant payments.
To support the general work of the United Board as required.
Qualifications and Experience:
A master's degree with a minimum of 8 years of relevant work experience. A PhD or the equivalent and prior experience in program and grants management, especially in the higher education sector, would be an advantage.
Strong written and spoken language skills in English and an Asian language.
Familiarity with higher education in Northeast Asia.
Ability to think strategically and independently while, at the same time, working with a team of colleagues.
Ability to move comfortably and respectfully across cultures, work effectively in a consultative manner within the United Board and with diverse program and institutional collaborators, and help others form effective partnerships.
Must possess the intellect, creativity, and imagination to discern new opportunities for the United Board and develop effective strategies to build on them.
Willingness to travel extensively (candidates who are not US citizens must be eligible for a visa to the United States).
The position will begin as soon as possible. Salaries and benefits are competitive.
Applications must be submitted electronically to Ms. Louisa So at Lso@unitedboard.org with a cover letter, resume, and contact information for
reference. Applicants not invited for an interview six weeks after the submission may consider their applications unsuccessful.
The United Board for Christian Higher Education in Asia is a nongovernmental
organization committed to education that develops the whole person – intellectually, spiritually, and ethically.
We draw strength from our Christian identity and values and our collaboration with Asian colleges and universities. Together we prepare individuals for lives of professional and personal fulfillment and meaningful service in the community with others.
The United Board is an equal opportunity employer. It opposes discrimination because of race, color, age, sex, religion, national origin, sexual orientation, marital status, disability, citizenship, or any other protected characteristics established by law.
For information about the United Board, please visit www.unitedboard.org.
HANDONG GLOBAL UNIVERSITY, NOTICE OF FACULTY POSITION OPENING, 2022
Handong is God's institution- educating people of God through the ways of God
1. Vision and Educational Goals
A. First, Handong Global University nurtures honest Christian leaders from all walks of life who change the world for the glory of God in a spirit of love, humility, and service.
B. Second, Handong Global University fosters honest international leaders who serve their communities, countries, and the world, especially in developing countries, from a foundation of professionalism and morality.
C. Third, Handong Global University devotes itself to academic disciplines from a Christian worldview, establishes goals that are true to education, restores Biblical creationism, and cultivates competent and honest intellectuals who bring restoration to corrupt ethics and morals. (Isaiah 58:12)
2. Faculty Invitation Field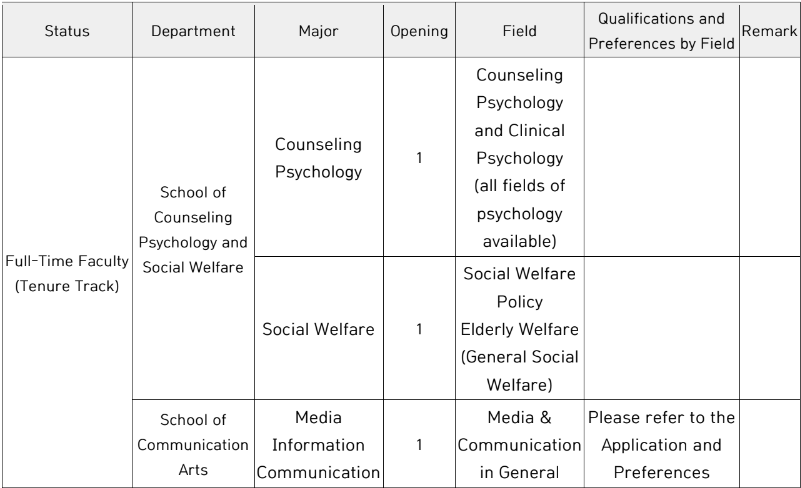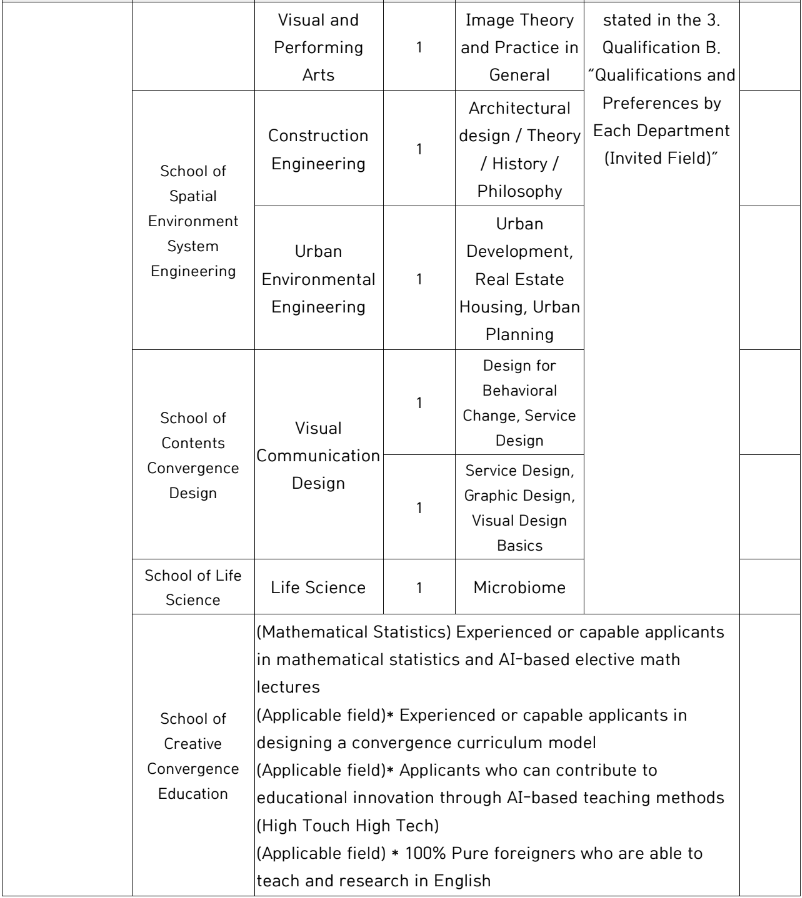 -(Applicable Field)* Handong Global University's majors only. Please check the majors on this website.
(https://www.handong.edu/eng/academics/undergraduate/gls/about/) -If there is no qualified applicant, so recruitment may not happen in that field.
3. Qualifications
One may apply with conditions detailed below in addition to the following: being able to instruct students with a view of one's major from a Christian perspective, a whole-person education goal of our university, and understanding and participation of the evangelical Christian mind and fulfilling of such goal.
A. Common Qualifications for Full-time Faculty Application and Preferences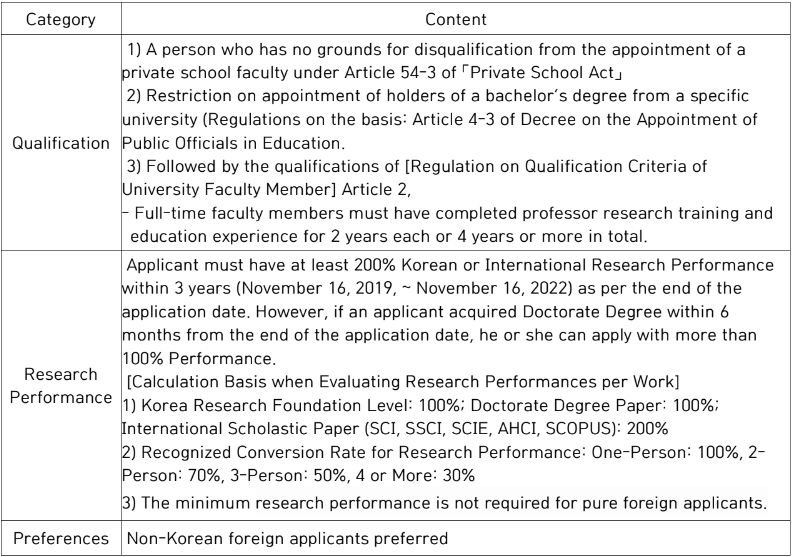 B. Qualifications and Preferences by Each Department (Invited Field)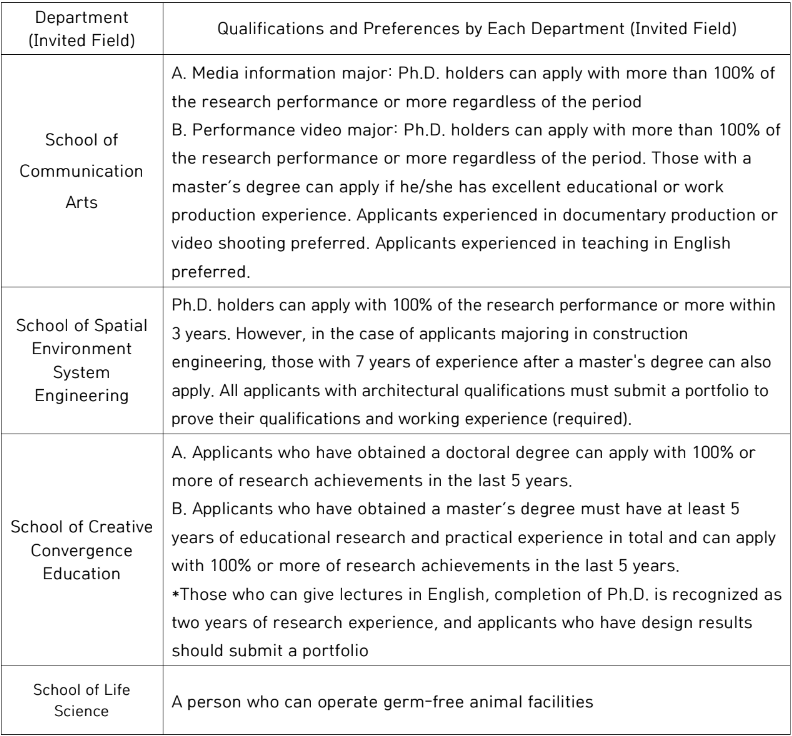 ※ In the case of research results and qualifications for application, if there are any qualifications suggested by the department (invited field), applicants shall follow the qualifications in accordance.
For example, applicants in media information communication of in the Department of Communication Arts can apply with 100% or more research performance presented by the department (invitation field) rather than 200% or more of the common qualifications.
4. Documents Required
Submit by email with a PDF file of the following documents (hbae@handong.edu)
One copy of faculty application
One copy of each certificate of academic backgrounds (transcripts and graduation certificate for all undergraduate, master, and doctoral courses)
One copy of the confirmation of working experience (for the past 4 years only. When applicant becomes a finalist, confirmation of all work experience must be submitted).
One copy of license (if applicable).
One copy of research and development performance list (title, researcher, publication date, publication paper, thesis outline)- listing all periods can be written in free form
One copy of doctoral thesis and one copy of thesis done within 3 years.
One copy of research achievements other than the thesis (for the last 3 years as of the application deadline) (if applicable).
Two Recommendation Forms- One Recommendation each from major and non-major recommenders (faith related).
5. Application Procedure
A. Application Period : May 18th (Wed), 2022 ~ June 6th (Mon), 2022, 05:00 P.M.
B. Submission Method : E-mail (confirmation email is returned upon receipt)
C. Selection Process : Qualification Screening >Basic Screening >Specialty Screening > Interview > Interview with the president of Handong Global University
*Each stage is conducted only for those who have passed the previous stage, and the result of each stage is notified by e-mail and phone.
– Evaluation of major field suitability, academic excellence, and instructor qualifications
– Evaluation of school understanding, university vision, global competency, and English teaching ability
6. Others
A. The ability to embody and to teach students from a Christian perspective should be proved in the self-introduction letter.
B. A finalist's appointment can be canceled if the application form is found to be falsified.
C. Other matters not specified in this notice are subject to faculty personnel-related regulations, such as the Bylaws of Handong Global University.
7. Inquiries
For further details, please contact the Office of Academic Affairs
Person in Charge: Heejeong Bae (hbae@handong.edu) / Website: http://www.handong.edu
Tel. 054-260-1842 / Fax. 054-260-1079
Please click here to find more information and application forms.