In a "rapidly changing" educational environment, programs of Christian higher education institutions (HEIs) should be reviewed using the lens of Christian mission and service, said Dr. Betty Cernol McCann, president of Silliman University (SU) and Association of Christian Universities and Colleges in Asia (ACUCA), during the 2021 ACUCA Management Conference, December 2-3, 2021.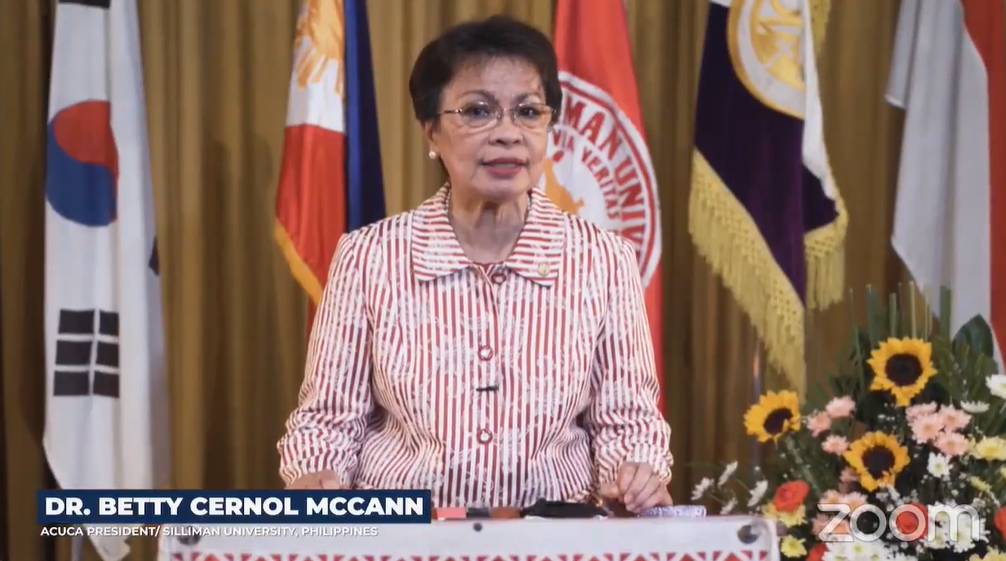 The conference picked up after the Joint Virtual Consultation of SU, ACUCA, and the United Board last July 2021 where key characteristics of Christian HEI's preferred futures were identified.
With the theme "Journeying Towards Preferred Futures at Christian Higher Education Institutions," the conference aimed to create action plans to complement the identified key characteristics and strategies.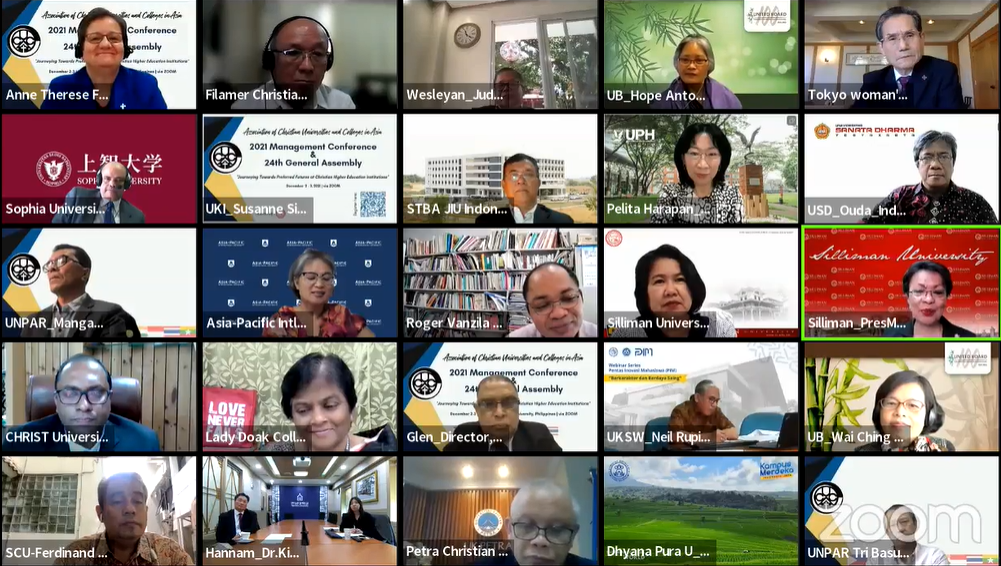 "In these identified steps toward preferred futures at Christian higher education institutions, a re-viewing of programs—academics, administration, services—from the lens of Christian mission and service in the context of a rapidly changing educational environment is of paramount importance," said McCann in her keynote speech on the first day of the conference.
McCann added that it is equally important for Christian HEIs to welcome faculty, students, staff, alumni, and partners as "strategic players in institutional plans for moving forward," and to find ways to "maximize the power of partnerships" within and outside the educational arena.
Envisioned futures
Based on the Joint Consultation last July, McCann said Christian HEIs agreed on providing the kind of education with the following key characteristics in their preferred futures: anchored in the precepts of harmony among fellow human beings, towards God, and with the environment; without borders, and for all; committed to continuous improvement, and one that banks on greater collaboration among institutions and constituencies.
Christian HEIs also agreed on targeting to become a "green campus," which includes carbon neutrality and incorporating green infrastructure and technology.
Complementary actions
McCann identified steps that Christian HEIs can take to reach their preferred futures, which are: investing in the professional development of faculty and staff; embracing online learning and technology; accelerating unique growth potentials within the institution such as cross-border, online graduate education programs, and technology and business incubation programs; aligning sustainable development goals in research and community service programs; adopting new ways of managing school operations; providing wellness and emotional support programs for students, faculty and staff; and activating partnerships.
Unique paths
McCann recognized that Christian HEIs in Asia may take "different paths" to reach common goals.
"Colleges and universities in South and Southeast Asia, in North and Northeast Asia, and those others in Asia and the Pacific regions, may chart their educational journeys in ways different from one another as they have unique strengths, structures, and missions," she said.
Continuous improvement
Dr. Yung-Lung Lee, Chang Jung Christian University president, said in his response to McCann's speech that Christian HEIs should uphold and incorporate the love of Jesus Christ in the education they provide; uphold righteousness, justice, and inclusivity; and design learning content with the concepts and principles of whole-person education.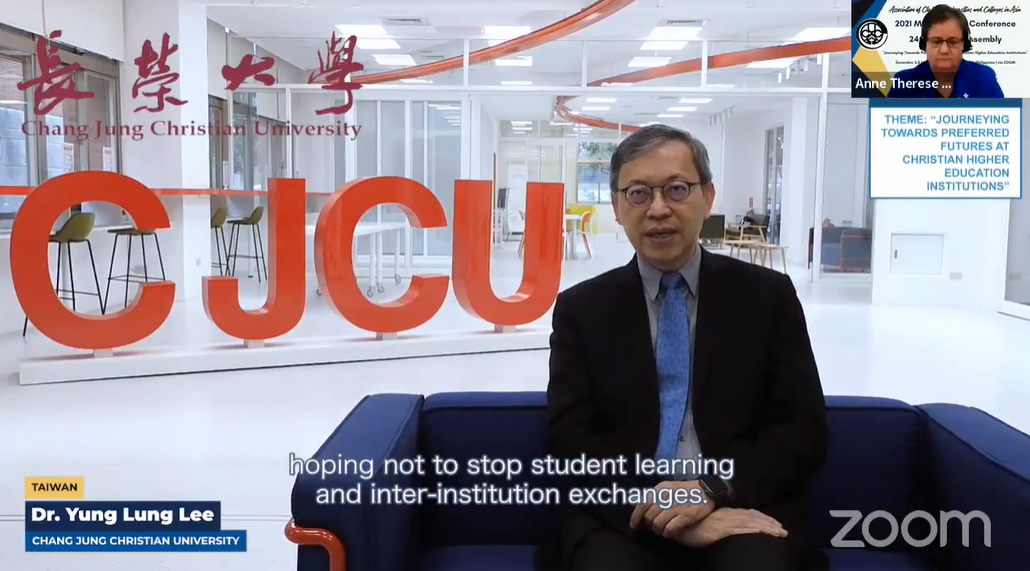 "Through continuous efforts and improvements, [a] Christian university could become an institution emphasizing inclusion, solving problems, and seeking sustainability," said Lee.
Lee also said Christian HEIs should form a closer alliance with each other to promote cross-cultural cooperation and sharing.
"We should recognize our value, use our uniqueness, support, and cooperate on the platform established by ACUCA," Lee added.
Dr. Mangadar Situmorang, Parahyangan Catholic University rector, said continuous improvement is part of a Christian HEIs "Christian responsibility" and is a result of learning from failures.
Christian values
Dr. Ir. Henry Feriadi, Duta Wacana Christian University rector, emphasized in his response the importance of upholding Christian values, and shaping future generations that are "willing steward and sustain the environment."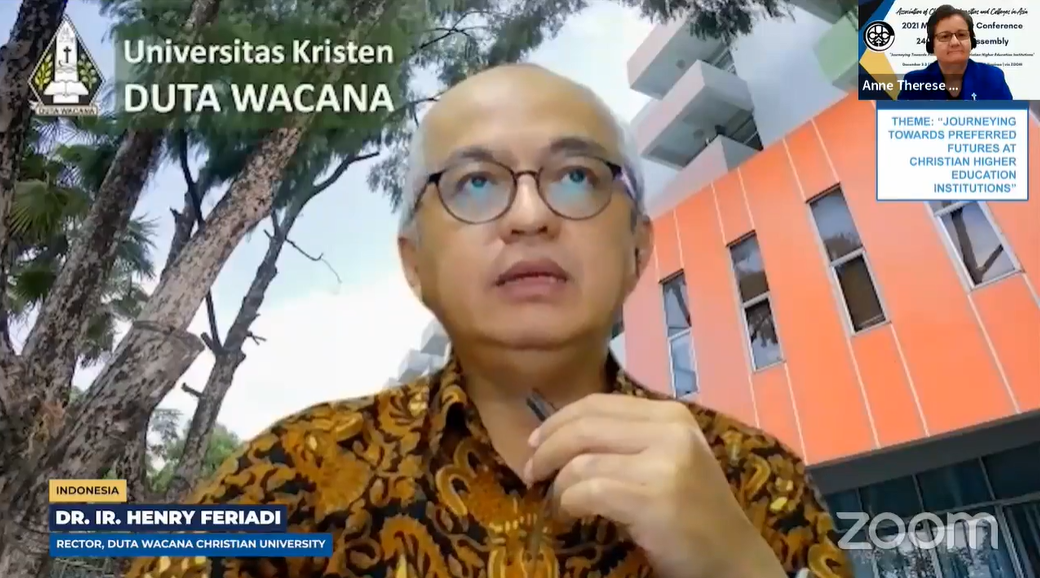 "We understand that [we] probably cannot compete with other world-ranking universities, [but] we can provide the best education that's shaping our future students and graduate as global citizens with Christian values, good character, and responsibility for others and the environment," said Feriadi.
Dr. Wai Ching Wong, United Board for Christian Higher Education in Asia vice president for Programs, also emphasized the need for environmental action in her response.
"A future can only be achieved with everyone having the opportunity to learn and take ownership of the knowledge and required action to do justice to the community and environment," said Wong.
Equipping students
Dr. Gary Wayne Barkley, Seinan Gakuin University president, said in his response to McCann's speech that it is important to equip students to become peacemakers.
"As we work in a changing environment, it is important, I think, that we tailor our programs to meet the challenges of the societies in which we live," said Barkley.
Dr. Fr. Abraham Vettiyankal Mani, Christ University president, shared the initiatives of their university in navigating the challenges from the pandemic, which includes efforts in upskilling faculty, volunteerism activities, and mental health initiatives.
Ambassador Laura Quiambao-del Rosario, Miriam College president, suggested introducing students to social entrepreneurship, which can help address social issues.
"The aim of the conference is closely related to ACUCA's objectives, which are to create environmental prerequisites for active interaction and participation among the member-institutions, paying particular interest to the changing conditions of Asian societies so that we can develop educational programs with a resolute will to actualize the Christian witness in academic pursuits," said Dr. Kwang Sup Lee, Hannam University president and ACUCA vice president.