In June 2022, the Association of Christian Universities and Colleges in Asia (ACUCA) launched the Micro Degree/Certificate Program (MDP) with the support of the United Board for Christian Higher Education in Asia (UBCHEA). This program is a flagship initiative of the Hannam University ACUCA Secretariat and is designed to help students from member institutions continue their education amidst the challenges of the pandemic. The MDP program has seen a high completion rate and an increasing number of students expressing interest in enrolling in future courses.
Over the summer of 2023, 162 students from 21 institutions completed short-term online courses offered by ACUCA. These courses were taught synchronously daily for three weeks in July and August — Basic Python Programming, Korean Language, Mandarin Chinese, Strategic Family Business Management, and Social Entrepreneurship. The courses were taught by fourteen faculty members from five ACUCA member institutions.
Mandarin Chinese: Hsiu-Ting Hsu, Chi-Hua Lu, Guan-Yu Chen, and Yu Chi Tong, all from Chung Yuan Christian University of Taiwan.
Korean Language: Kim Sejeong, Shin Unyoung, Jeon Sun Young, Lim Yeyoung, Na Hye In, Lee Eunki, and Jo Sounghun all of Hannam University, South Korea.
Basic Python Programming: Dr. Chuchi Montenegro of Silliman University, Philippines;
Strategic Family Business Management: Prof. Donald Tan of the Universitas Pelita Harapan of Indonesia, and
Social Entrepreneurship: Prof. Michael Meallem of Payap University, Thailand.
Prof. Kim underscored that "apart from providing students with supplementary education and credentials, the MDP program also encourages faculty research and collaborations among its member institutions. The program allows member institutions to pool their resources and individual specializations to benefit all member institutions and their students."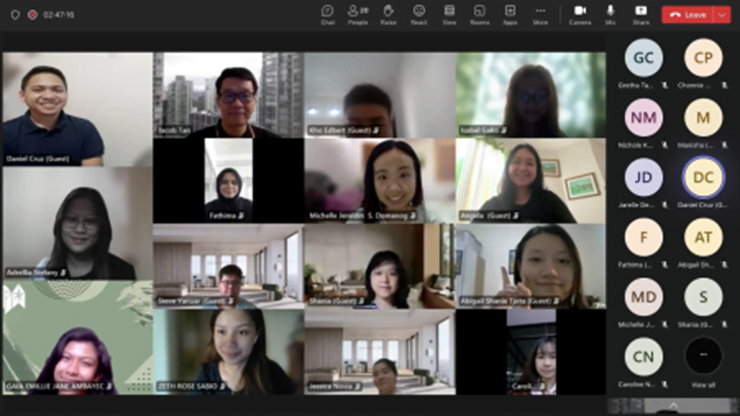 Students who completed the MDP Summer 2023 courses appreciated the excellent teaching, enhanced knowledge and skills, camaraderie across borders, and encouragement to collaborate. Overall, the MDP program has been successful in providing students with quality education and fostering collaboration among member institutions. Here are some of their comments:
Basic Python Programming students
"The engaging course turned out to be an illuminating journey into the realm of coding, where I not only learned the fundamental syntax of Python but also gained insights into the art of problem-solving.
"The professor is an expert in the field, ensuring a high-quality learning experience. Overall, this program equips students with the knowledge and tools needed to excel in their chosen careers.
"The lectures were engaging…What made the experience even more enriching was the chance to connect with fellow students from various universities. Collaborating on assignments and group projects fostered a sense of camaraderie, as we shared ideas and tackled coding challenges together."
Social Entrepreneurship students
"I appreciate Mr. Meallem's effort in the class in explaining thoroughly and being lenient on students since we all have different educational backgrounds and schedules. I admire how he entertained questions in every class and recommended videos to watch to supplement the topic. Because of these, I was able to submit decent reports and even got nice comments from him."
"I must say, that the social entrepreneurship course exceeded my expectations in many ways. The instructors were not only knowledgeable but also incredibly considerate, with Prof. Mike standing out for his exceptional skill in fostering an engaging learning environment. The class discussions were thought-provoking, and I appreciated the diversity of insights brought by my fellow classmates. The program's focus on practical application made the learning experience more impactful, enabling me to connect theory with real-world scenarios effectively. Overall, it's been an inspiring journey that has expanded my horizons and left me with a deep appreciation for the program's thoughtful design and the exceptional  efforts of Prof. Mike."
Strategic Family Business Management students
"Classes like these are a great way of bringing multiple perspectives together to make learning easier and Prof. Tan's personality was a bonus to me. I am grateful for this opportunity.
"The program offers a well-rounded education with a strong emphasis on practical skills and real-world applications. The professor is an expert in the field, ensuring a high-quality learning experience."
Mandarin Chinese students
"I was so happy that I got a chance to explore a new language and a new set of classmates, which made me enjoy the lectures.
"Our instructor was excellent. She not only catered and adjusted to each student's strengths and weaknesses, but she also encouraged good rapport among the class. Considering the class was only 3 weeks, we were able to learn a lot due to her high level of competence in teaching."
Korean Language students
"The instructors are very nice in teaching the Korean language especially to us that don't have any background in Korean language. I was happy that I was able to read and write Korean only after a few days! Classmates are also fun! Ms. Yeyoung and Ms. Sejeong are the best!!! Thank you ACUCA!"
"The course was fun and insightful. The teacher also taught us very well. They are patient enough and enthusiastic when teaching. They also tried to communicate with us in English when we had difficulty understanding the material."