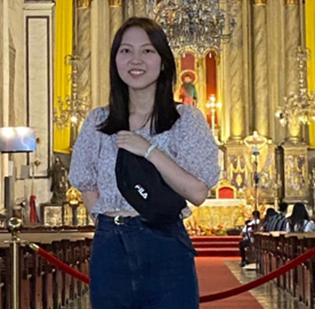 Mahiro Suzuki
Nanzan University
Japan

Host Institution: Assumption College, Philippines
Spring 2023
Studying in the Philippines as an exchange student was a whole new experience for me — the people, culture, language, food, and so forth. All of it was new and foreign. During my stay, I was a communications student and took related digital content and management class which was different from my area of study in Japan. However, this provided me with opportunities to expand my experience.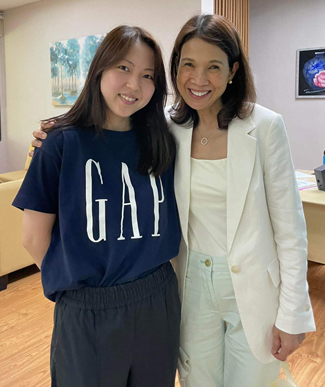 I lived what it is like to celebrate Valentine's Day and Holy Week in the Philippines. During Holy Week I stayed at my friend's house in Bacolod which takes one hour flight from Manila. The trip was unforgettable for me as we went to a beautiful mountain, the ruins, and the waterfall. My friend and I climbed the one-hour steep road in the forest to reach the waterfall. One hour later, the view was stunning. The fresh air and cold water were so refreshing, and I felt more accomplished because we had to endure a strenuous climb. There were no foreigners, and I was told by the restaurant owner that this mountain was used as a hiding place where Japanese armies were barricaded during the 2nd World War. I heard there are still remaining cannon and bullet holes. The owner also told me that I am the youngest Japanese that has visited the place since 1945. I felt honored and happy to come here from Manila. In Bacolod, the time I spent with my friend and her family was an unforgettable memory.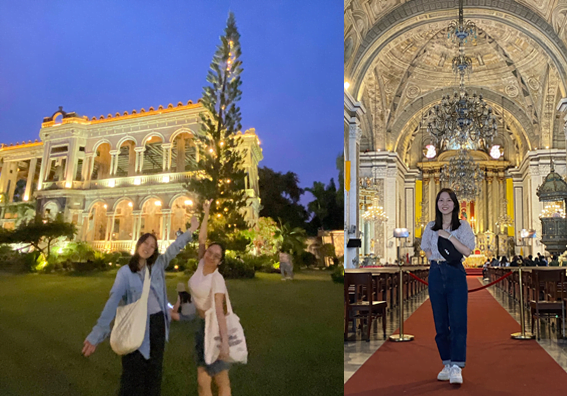 Another great memory was during College Week and College Night. During a week, I participated in lectures, sports activities, and College nights. Some performances and guest band live performances were so nice. My classmate and friends' performance were spectacular. During Girl's Night, the school was filled with good vibes. I've got a good influence on others because everyone has a positive mindset and natural self-confidence that I have adopted myself as well, unknowingly.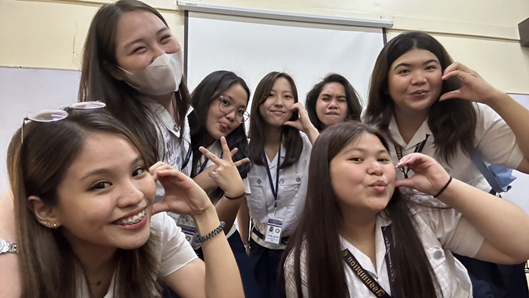 Other highlights of my stay were visiting historical places. I learned not only Philippine history but also Japanese history, my own history, but in the eyes and words of the Filipino people. I previously didn't have the opportunity to see art but since I came to the Philippines, I have become interested in art like paintings. Inside the Intramuros, I walked around, and I saw historical buildings that are tangible remains of the Philippines' complex and highly eventful past. I cannot describe it in words but there was a special atmosphere that I can feel during the visit. My interactions with people there were interesting as they were accommodating and encouraged me when I spoke some of the few Filipino words that my friends taught me during casual small talk.
I have been beyond blessed, but this isn't to say that I did not experience difficulties during my stay. The first challenge that I had to deal with is adjusting to the new environment as the only foreign exchange student during the semester. For the first few weeks, I felt loneliness and anxiety, however, my roommate became a good friend of mine and we got along not long after. My roommate and my classmates became my close friends, and they took great care of me so I did not feel lonely. Together, we went out on the weekends around Manila. We enjoyed the local neighborhoods as well as the city area. I learned that if you don't move, nothing will happen.
Just walking around the city as soon as I arrived at the airport, I felt the Philippines's captivating energy and the atmosphere which was something I have not felt before. My future career view has changed substantially by meeting other Japanese working in the Philippines. Because of my encounters with them, I developed a passion to do work that helps people.
During my stay, I realized how much I didn't know about other Asian countries. Although sharing the same continent, countries in Asia have different cultures, social constructs, societal expectations, and characteristics that set them apart from each other. This led me to the desire to introduce the Japanese culture to more people. Thus, travel more. Through the ACUCA SMS program, I have developed an interest in other Asian countries, and it is my goal to visit all countries someday in the future.
However, all of these would not have been possible without the support and help of many people, offices, and organizations. I am most especially grateful to the highly supportive Nanzan University International exchange office. I appreciate each assistance that you have offered me. Despite me being the pioneer student involved in the exchange program from Nanzan University to Assumption College, you ensured smooth communication among the universities which allowed me to have a comfortable stay in the Philippines. With this, I am highly thankful to both university offices.
Many people I met during my stay influenced me a lot. I got insights that helped me see the world from a wider perspective, and I feel myself becoming more accustomed and understanding of cultural differences. This program allowed me to reflect deeply on why we stress about the answers to the question "What is normal?" and that we should not change ourselves to fit in as normal looks different for everyone. As a globalized society, we need not only to accept but also celebrate differences for a better future. As a Japanese youth, I have high hopes for a bright future for both Japan and the Philippines.