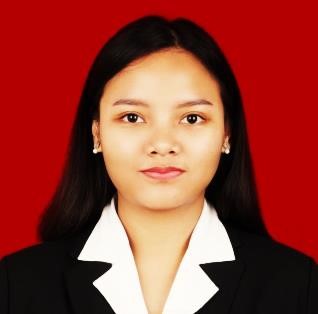 Hedwig Tiara Svayambhu
Sanata Dharma University
Spring, 2019
I learned about the ACUCA International Student Exchange Program from our University International Office through posters and school website. I also heard encouraging stories from previous students who had joined the program. Thankfully, my application at Wenzao Ursuline University in Taiwan was responded favorably. At the Wenzao Ursuline University of Languages, I took Intercultural Communication: Taiwan Image and Professional Public Speaking Training courses. I also joined Chinese class at the Chinese Language Center of Wenzao Ursuline University of Languages. Be able to meet international students, I was advised to join a cultural class for international students. There were specific activities outside of the classroom which I joined such as the field trip to Meinong in order to learn about Hakka culture, trip to Penghu Island. I also actively participated during the university sport's day.
Living in Taiwan for more or less five months gave me new experience. Before I left Indonesia, I felt so excited because it was my first time staying abroad for such a long time alone. However, as soon as I arrived in Taiwan, I felt a little bit scared since I did not speak a word of Chinese. The first week of my stay was a discouraging moment as I had to rely on my friends a lot. I could not do even a simplest thing such as buying groceries.
Thankfully, I could pass this moment because I had a buddy who accompanied me every time I needed help. She gave me much information about the university, dorm, environment, and explained many other things to help me adjust with my new environment. She also took me to many interesting and famous places in Kaohsiung, Taiwan.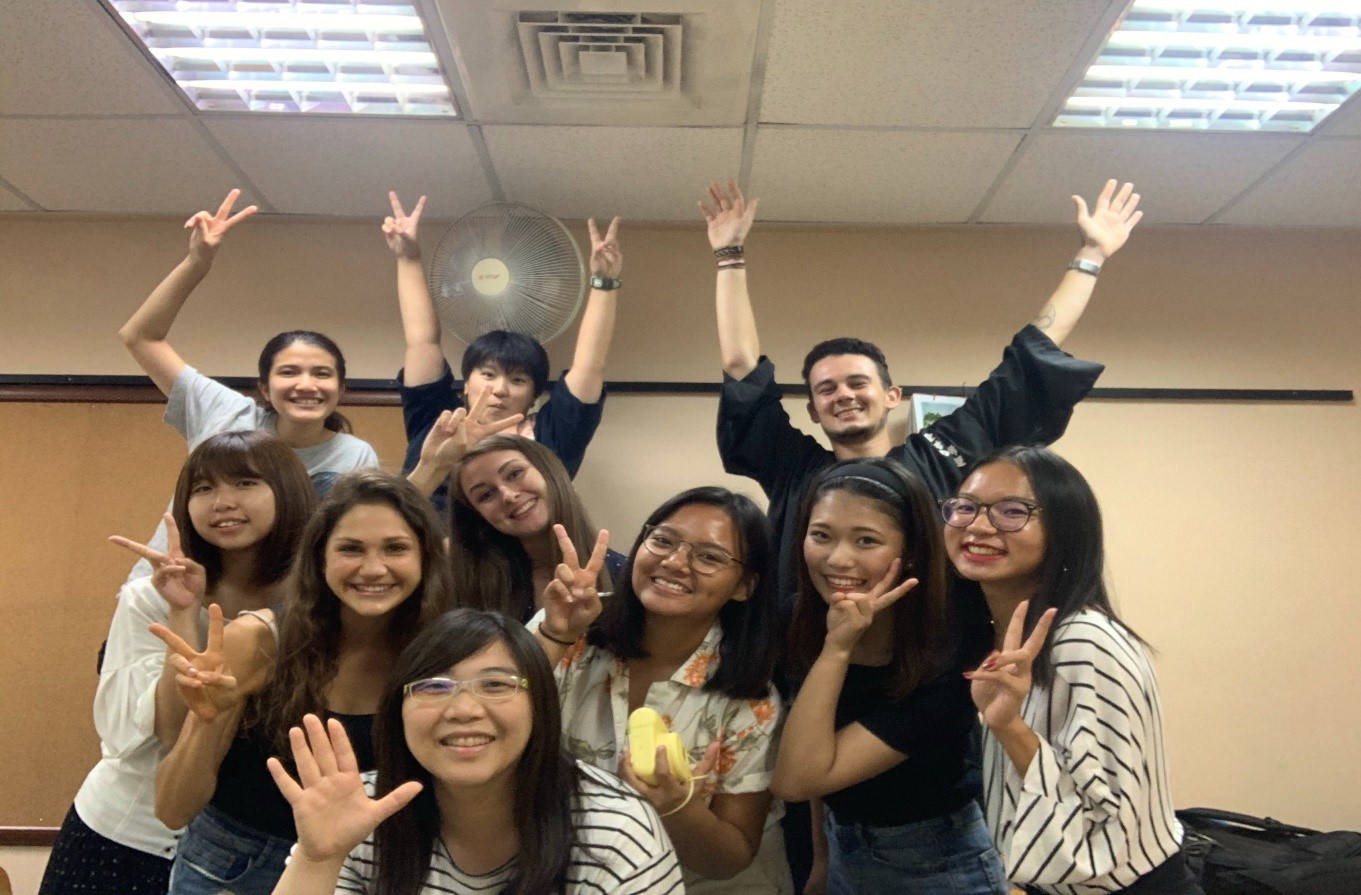 At the classroom after our culture class for international students.
In addition, my stay in Taiwan also became fascinating since I met new friends coming from many different parts of the world. I learned about new cultures and languages. I also got more exposure about European countries since I got some friends coming from Czech Republic, France, Belgium, and Germany. As there were also many students from Japan, I also got a chance to learn about Asian culture other than Taiwan.
The lecturers in the university and the teachers in Chinese Language Center were also friendly and caring. Hence, it was always a good time attending their classes. In Taiwan Image class, I got new knowledge about indigenous tribes in Taiwan. I also got a chance to go to the museum and watched the indigenous tribes' performances. It was an unforgettable moment for me. Moreover, I got a chance to visit Penghu with other students from the Chinese class. The trip was really great because I could spend time with new friends and enjoy the view in the other part of Taiwan.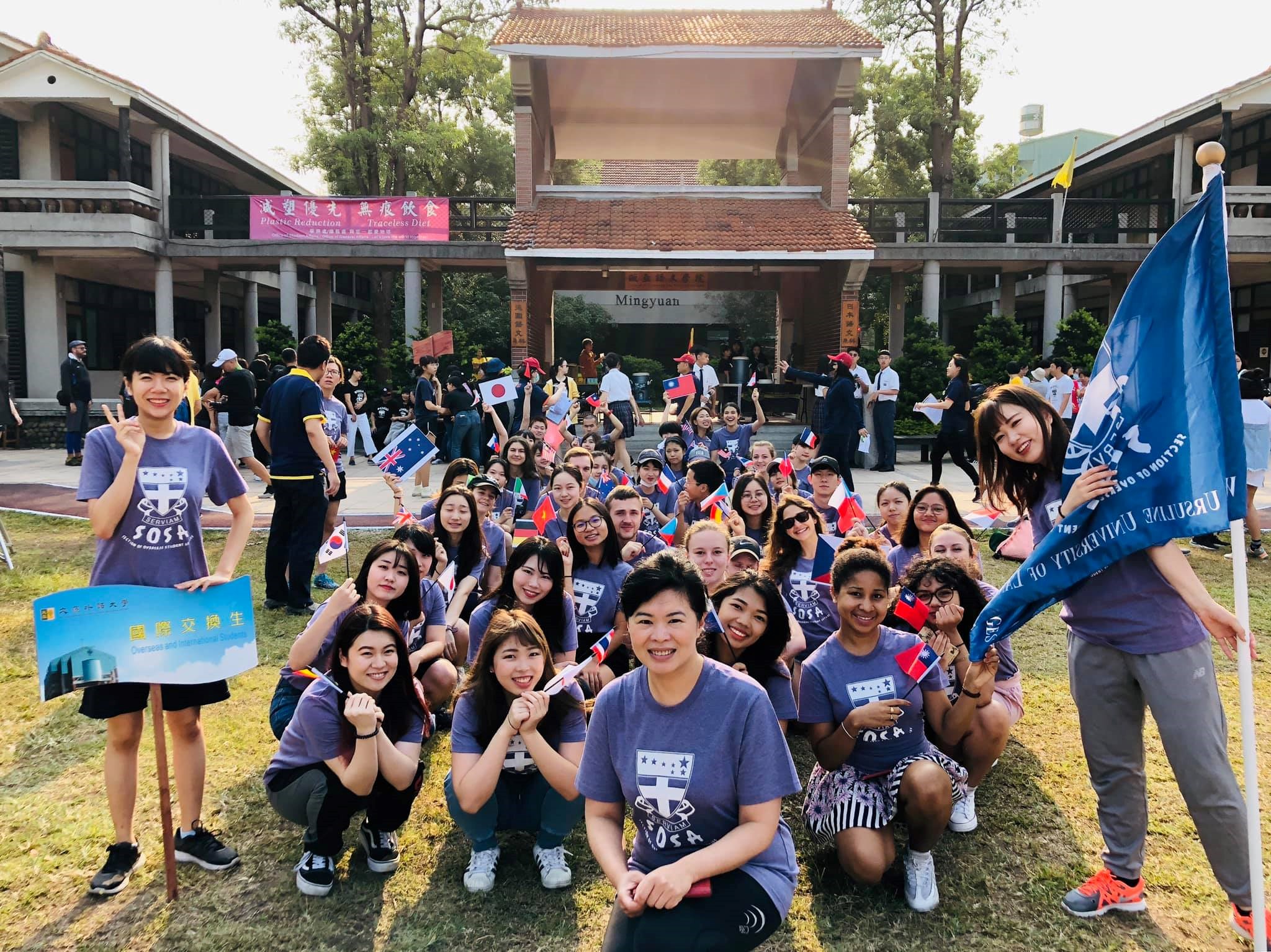 One beautiful afternoon with my classmates together with our Chinese professor…
In a nutshell, I am really grateful for this international student exchange opportunity provided by ACUCA. I am grateful to my host university, the Wenzao Ursuline University, for the great experience. I am thankful to my home university for the support provided to me. This experience will surely be beneficial to me, particularly, in my future endeavor, and I thank God for His care and provision. This experienced has changed me to be more independent, organized, careful, and thoughtful. Now I have many friends coming from other countries, and I have learned new cultures and a bit of new languages. I have experienced many good things about life and friendship. I learned to be independent and to be appreciative of the many positive things this life could offer.