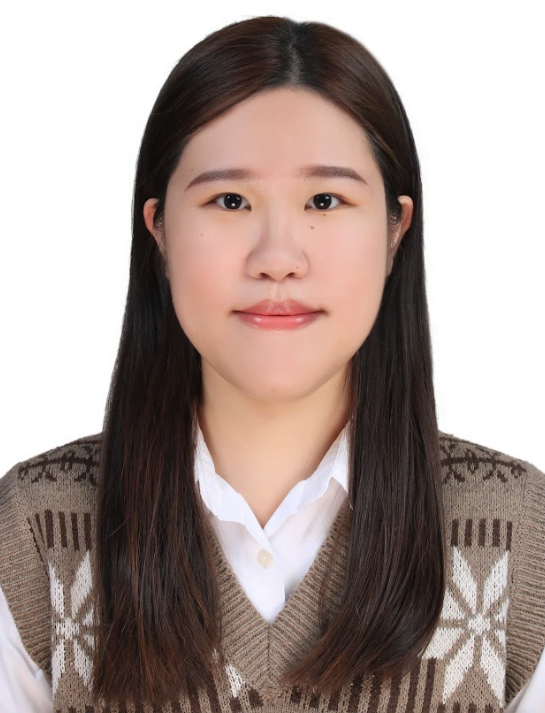 Wu Ssu Yun
Tunghai University
Taiwan
Host Institution: Aoyama Gakuin University, Japan
The ACUCA Student Exchange Program has provided me with the opportunity to study at the school of international politics, economics and communication at Aoyama Gakuin University in Japan.
Since the exchange students must take a minimum of 16 credits, I had to be at school from Monday through Friday. I had a very different experience in the class as compared to what I am used to because the teacher would encourage each student to express his or her thoughts in Japanese, and as I am a non-native Japanese speaker, this has been relatively difficult for me. However, despite all the struggles I enjoyed my time in Japan and made the most of my time there. During weekends and holidays, I would often go to museums or art galleries, or go to cafes with friends. And at the end of December 2022, I spent the holiday on a long trip to Hiroshima, Kyoto, Nagoya and Mt. Fuji.
There are certain difficulties in living abroad, but if you have sufficient language skills, it will be much easier. In addition, there are very few opportunities to use English in Japan, and it is difficult to talk to store staff or go to public offices for documents. At first, I was afraid of speaking Japanese, but after I gathered the courage to speak Japanese in order to solve the problem at hand, things went smoothly. The most important thing is not to be afraid of talking to people if they do not understand what you mean. You just have to say it again, and there is no need to be frustrated about it. I took the Japanese language while I was still in Taiwan, and I had to memorize the vocabulary and grammar for exam purposes. But when I was in Japan, I was encouraged to use the Japanese language for daily survival. I learned the importance of being brave enough to ask for help when you encounter any problems and express your needs clearly to others so that they can address your needs.
In connection with this, I learned from Japanese culture is the importance of expressing your thoughts to others. In Taiwan university classrooms, the majority of teachers explain course content to students. In Japan, especially in Japanese language classes, whether right or wrong, teachers expect us to learn to express our opinions. I found out that sometimes you can learn more from mistakes that you make.
This exchange program also allowed me to reflect on how I exercise my critical thinking and problem-solving skills. I often think about the root of the differences between Japan and Taiwan and what are the strengths and weaknesses of the Japanese culture that Taiwan can learn from.
Furthermore, I came to realize that all regions in Asia have attractive features worth studying. In Japan, I came to appreciate the importance of abiding by the rules. Following rules has become a part of life in Japan and the people follow the rules religiously. For instance, before the start of the semester, I had to fill out some documents. I experienced some difficulties with the rules and there was this feeling that if I missed a step, the result would be troublesome. However, the longer that I have lived here, I have come to realize the convenience that comes with following the rules strictly. In fact, the rules can make one's life organized.
As to my social life, it was a little difficult to make friends with Japanese people on campus. They already have a fixed circle of friends, so it seems difficult for us as foreigners to become close to them. That was why I have chosen a Chinese class this semester. The Japanese students who were interested in Chinese became my friends. In fact, I made a Japanese friend from the same department. We went to Meiji Jingu Shrine and Asakusa Temple together. I participated in her graduation project. The project was to introduce Japan to foreign nationals.
I feel most grateful to meet many friendly people in Japan. First of all, the tutor system is specially set up by Aoyama Gakuin University Japan. My tutor helped me know about the campus, and how to choose classes and gave me practical advice when I had questions about living in Japan. In addition, she and I were enrolled in the same major courses at the university. We talked about a lot of common topics together happily.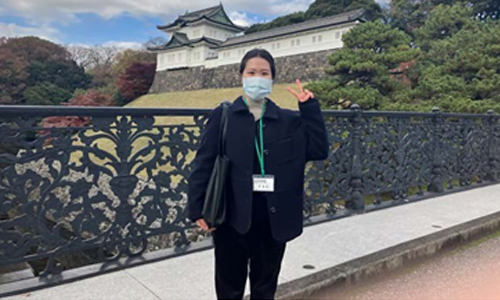 Then some travel activities were organized by a Japanese friend whom I met in Chinese class. This event was held twice, the first time we visited Meiji Jingu Shrine and the second time we went to Asakusa Temple. Many students from different countries participated in this event, such as the United States, Australia, the United Kingdom, Germany, China, Korea and Russia. By interacting with people from different countries, I found it interesting to see the same thing from different perspectives. After visiting the sites, I have a deeper understanding of Japanese temples and shrines. Japanese religion is not just a belief, but also a cultural habit that provides foreigners with the opportunity to understand Japan.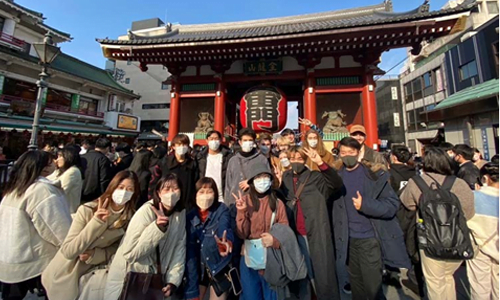 I am greatly interested in Japanese history and culture, so I visited many museums and galleries. For example, I saw a lot of ancient Chinese porcelain, poetry and traditional Japanese paintings in Seikado Bunko Art Museum, I saw Korean traditional household utensils, Japanese and Taiwanese minority traditional clothes and ornaments, collected by Yanagi Muneyoshi in Japanese Folk Crafts Museum.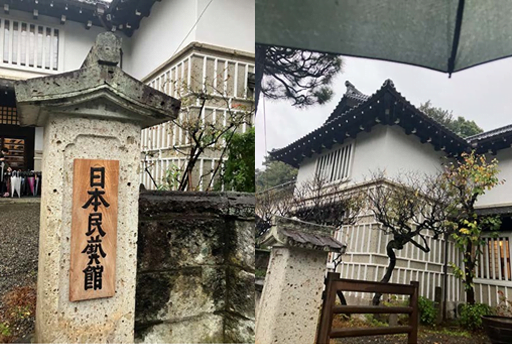 In addition, I also visited ANDY WARHOL KYOTO in Kyoto City KYOCERA Museum of Art. I was touched by this exhibition, in which I can see the footsteps of my favorite artist in Japan and that some of his works are influenced by Japanese culture.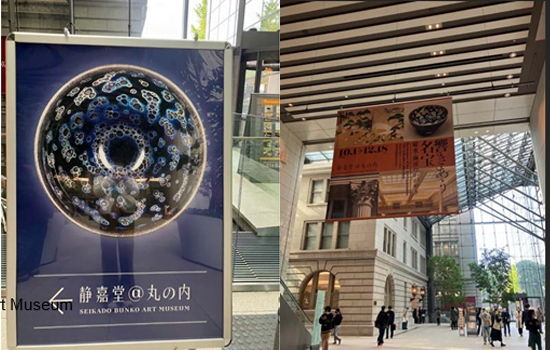 In particular, after visiting the Imperial Palace, I had a special idea about history. Since I can be curious and interested in Japanese history, shouldn't I pay more attention to the culture of this land in Taiwan? There was a time when the history of Taiwan and Japan overlapped. Because of colonization, Taiwan was deeply influenced by Japanese culture for 50 years. With the change of government, many Chinese elements have been added to Taiwanese culture. We should not think that Taiwan has not developed a culture. In fact, past colonial history is an important part of shaping Taiwan's culture. Perhaps cross-strait relations often blur the focus, making it difficult for the Taiwanese to identify with its own cultural history. After this exchange program, I found that I love Taiwan even more and I know what specific ways I should use to let the world know about Taiwan.
However, all of these experiences would not have been possible without the support of the following people and institutions.
I thank the international office of my home university, Tunghai University as I was able to collect the information for the exchange program of ACUCA and helped me to submit the documents smoothly. This provides strong support for me. I didn't have to send documents in person before the travel took place. I was provided with a lot of scholarship information. During the pandemic, meetings were held online to explain in detail some precautions to be considered during the exchange period.
To the students planning to join the exchange program of ACUCA, I want to emphasize the importance of language skills. You may have an A grade in language but if you do not how to apply them during actual life situations then you will encounter some problems. The learning is to try not to be afraid of making mistakes while talking to the locals. Talking to them no matter how difficult made me experience the joy of learning a foreign language.
I am sincerely thankful to Aoyama Gakuin University Japan for the many learnings which me a better and braver person. I also thank the people behind the ACUCA Exchange Program for the opportunity to study abroad and the lifelong and unforgettable experience.