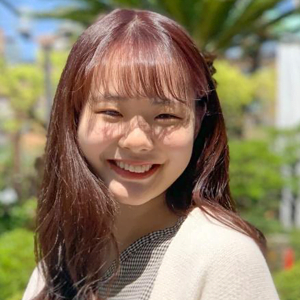 Makoto Yamada
Osaka Jogakuin University, Japan
I learned about ACUCA Study Exchange (SMS) Program through our International Office at Osaka Jogakuin University. I cannot thank my university enough for the opportunity of studying abroad and for introducing Hannam University Korea to me. I took media and cultural theory classes at Hannam University Korea throughout the year. I also took a history class to study the relations between Japan and Korea and studied the Korean language as well.
Under the Coronavirus circumstance, it was difficult for me to meet new friends as most of the classes were online. I hardly had opportunities to meet my classmates. But as the situation eases, I tried my best to meet and talk to as many students as I can. I learned that I need to be proactive especially when you are studying in a foreign country. If I like to make friends and want to study a foreign language, I should act first. I should not hesitate to talk to them and just do what I want. As a result, I made many friends at my host university. They would often invite me to lunch and hang out with them. I even went out camping with them.
Indeed, studying abroad has offered many opportunities and changed me for the better. I had great memories with my new friends whom I met at my host university, the Hannam University in Daejeon City, South Korea. While studying media and culture, I took the Korean language too. I had a lot of things to do every day and my friends have always helped me prepare myself physically and mentally. I thought that I studied more than when I was in Japan.
I had taken three classes during the Spring semester. I usually had busy days before exams. We had to do group presentations about media literacy in class. Hence, my groupmates would meet up and prepare at the university café. It is also at the university café where I would meet my Korean friends to study for the exams in other courses. I took a history class in Korean and my Korean friends have always helped me.
I thought that I was not an outgoing person. But studying abroad has changed my personality. I tried my best to be proactive. I would start a conversation. I noticed that overthinking and worrying offers nothing. Meeting new friends and hanging out with them made me learn more about Korean culture and improved my ability to communicate. I went abroad to learn Korea and study English as well. But this experience has also led me to discover myself. That I can be a positive and open-minded person. Communication is a powerful tool. I cannot express how much I thank my friends whom I met at Hannam University. They have become my best friends now. Studying abroad made me realize the importance of being independent and at the same time counting on friends whom you can rely on at any moment.
---
Note from the ACUCA Secretariat: Makoto Yamada is a third-year International and English Interdisciplinary Studies student from Osaka Jogakuin University, Japan. She was a student scholar under the ACUCA Student Exchange Program during the 2021-2022 Fall Semester covering the period September 2021 to June 2022. Our appreciation goes to Hannam University Korea for graciously hosting our exchange student.