About ACUCA
The Association of Christian Universities and Colleges in Asia (ACUCA) is a community of Christian institutions of higher learning in Asia which work closely together to benefit each other as well as the societies in which they exist.
The ACUCA Secretariat is designed to be instrumental for creating the environmental prerequisites for active interaction and participation among the member-institutions to take place.
Through cooperation, mutual support, and encouragement, the Association endeavors to help the Christian universities and colleges in Asia to:
Develop and maintain their Christian character
Enrich the quality of their educational programs and those of the other institutions of learning
Re-examine the relevance of their objectives and programs in relation to the needs of a changing society
Currently, ACUCA has 64 member institutions from 9 countries/regions of Asia, namely Hong Kong, India, Indonesia, Japan, Korea, the Philippines, Taiwan, Myanmar, and Thailand.
The ongoing activites that ACUCA supports include:
NEWS

July 2019
Hannam University News
Hannam Ranks Fourth in Nationwide University Entrepreneurship Index
Hannam University was once against confirmed as a bona fide gateway to entrepreneurship with a fourth-place ranking on a nationwide university entrepreneurship index. Hannam placed fourth in a June 14 assessment of 247 four-year and 170 two-year higher education institutions in South Korea by Maeil Business News. Its strong performance in the area of entrepreneurship included a first-place ranking for sales by faculty start-ups, a sixth-place ranking for student entrepreneurship support funding, and a tenth-place ranking for number of student entrepreneurs and student start-ups. "Our first-place ranking nationwide on the university entrepreneurship index is the result of hard work by all of our university's members, who strove to make our university the top force in entrepreneurship," said Hannam University President Lee Duk-hoon. Lee also said the university would "continue to work nonstop until we are the country's top-ranked university for entrepreneurship, including areas such as angel clubs and technology transfers." Hannam University doubled its number of entrepreneurship classes from 74 to 143 between 2017 and 2018, while the number of start-up clubs rose from 75 all the way to 115. Since the 2018 academic year, it has instituted "Understanding Entrepreneurship" as a general education requirement.
31st in University Brand Assessment
Hannam University ranked 31st nationwide and first among private universities in the Daejeon/Chungcheong region in a survey of university brand reputation. The result was based on a Korea Corporate Reputation Institute analysis of 84,536,158 items of brand-related big data for 100 major four-year universities in South Korea over a one-month period from March 27 to April 28. For the brand reputation assessment, big data on brand-related consumer activities were sorted into participation value, communication value, social value, market value, and financial value categories.
New Daniel Scholarships Established
The introduction of Hannam University "Daniel Scholarships" as a financial aid program for undergraduates is drawing major attention. In addition to covering tuition in full from entrance to graduation, the scholarships also offer benefits including 4 million won per year for books, free dormitory use, and full financial aid upon general graduate school admission. Over 450 million won in benefits have been paid to date. The scholarships were funded when the full amount saved by discontinuing the official presidential vehicle system was invested in financial aid. With President Lee Duk-hoon now traveling to work on foot, the creation of the Daniel Scholarships means that the yearly costs of 150 million won spent covering rental fees, gas, and other charges for his exclusive vehicle service are now being returned to the students.

June 2019
UBCHEA Invites ACUCA President as Panelist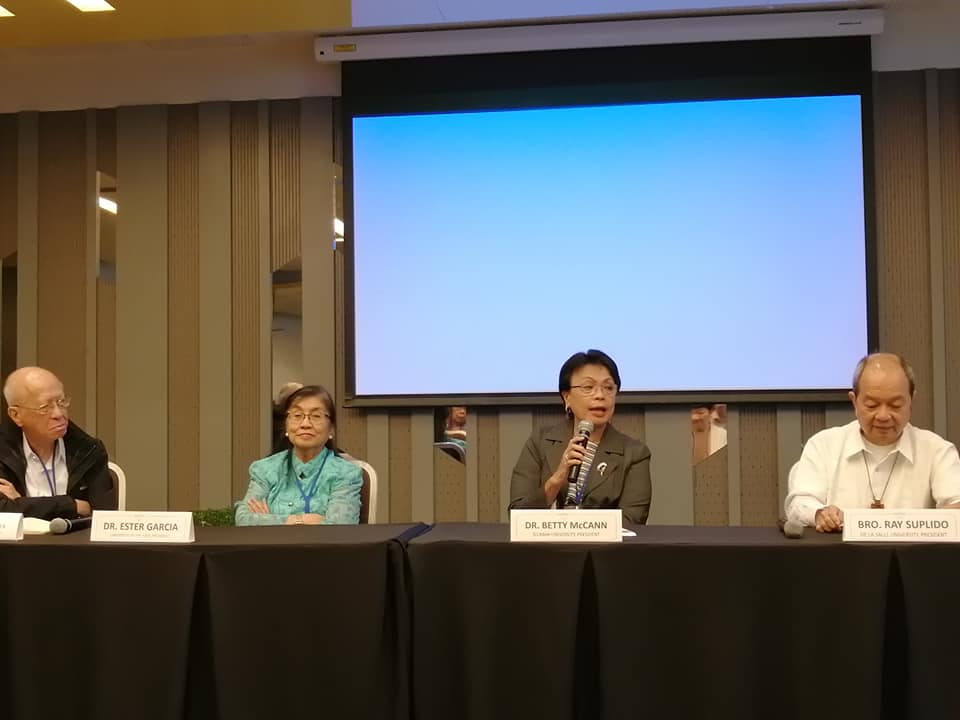 Dr. Betty Cernol-McCann, Silliman University (SU) and ACUCA president, attended a panel discussion held by the United Board for Christian Higher Education in Asia (UBCHEA) as a panelist on the keynote address, "The State of Higher Education in the Philippines: After the Reforms and ASEAN Integration," June 14 at the Novotel Manila Araneta Center.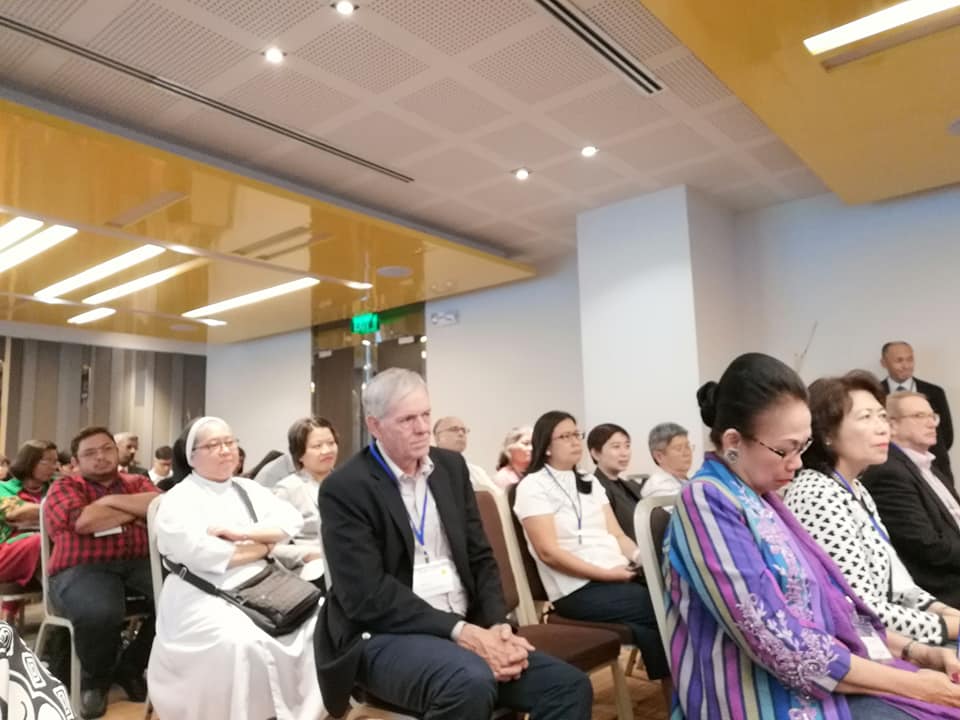 Aside from Dr. McCann, Dr. Ester Garcia, University of the East president, and Bro. Ray Suplido, De La Salle University president, also attended as panelists with Fr. Bienvenido Nebres, National Scientist and former Ateneo de Manila University president, as the moderator. UBCHEA Trustees, fellows, alumni, and other partners also attended the panel discussion, which was followed by a fellowship dinner.
From 2007 until 2013, Dr. McCann served as UBCHEA's Vice President for Programs. UBCHEA, a New York-based nonprofit organization with an office in Hong Kong, supports institutions through its programs and grants to improve the quality of education.
February 2019
Silliman University assumes ACUCA leadership
Silliman University of the Philippines has assumed leadership of the Association of Christian Universities and Colleges in Asia (ACUCA) following a formal turnover of responsibilities from Payap University of Thailand.
Silliman President, Dr. Betty McCann, took over the presidency from Dr. Rux Prompalit of Payap during the association's Biennial Conference and 22nd General Assembly held from October 11 to 14, 2018 at the Christian University of Thailand in Nakhon Pathom.
Dr. Jenny Elmaco, director of Silliman's Office of Strategic Partnerships, was also installed as ACUCA's Secretary General, succeeding Dr. Esther Wakeman, also of Payap.
Dr. Duk Hoon Lee of Hannam University is the new ACUCA vice president while Prof. Roland T. Chin of Hongkong Baptist College is the new treasurer.
The new members of the ACUCA Board are Nozomu Yamada of Nanzan University, Dr. Sr. Anne Therese Falkenstein of Providence University, Dr. Neil Semuel Rupidara of Universitas Kirsten Satya Wacana, Rev. Bro. Bancha Saenghiran of Assumption University, and Dr. Fr. Thomas C. Matthew of Christ University.
The new officers were installed during the assembly in Thailand.
Silliman's presidency of ACUCA follows a rotation arrangement among ACUCA's member universities.
[More news: click to see the latest news]