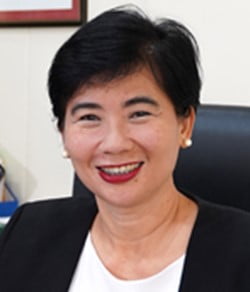 Prof. Jane Annette L. Belarmino
Vice President for Development, Enterprise, and External Affairs
Siliman University
ACUCA FMS Recipient 2019-2020
For the first time, we witnessed how a hustling and bustling university suddenly became a ghost town when we had an unexpected pause in all of our lives: operations trimmed down to a minimum, students sent back to their hometowns, a mass exodus toward an entirely virtual world, and for the first time, even getting a ride to the next town became very much a privilege— this last part meant that whatever was planned ahead pre-pandemic had to either be canceled or postponed, including participating in ACUCA's Faculty Mobility Scheme which had been in the pipeline for quite some time.
So now as the world enters a post-pandemic new normal, I took on the challenge to finally embark on a learning journey to Taiwan.
Under the FMS, I have finally been able to organize a 10-day full learning visit to Taiwan's top universities which included Providence University, my host institution, Tunghai University, Fu Jen Catholic University, Chang Jung Christian University, Chung Yuan Christian University, and Ming Chi University of Technology. The trip was an avenue for the exchange of ideas and best practices, exploration of new partnerships and collaborations, as well as strengthening of existing relations, while at the same time, immersing myself in the local university culture– things that can be shared for the greater Silliman University community.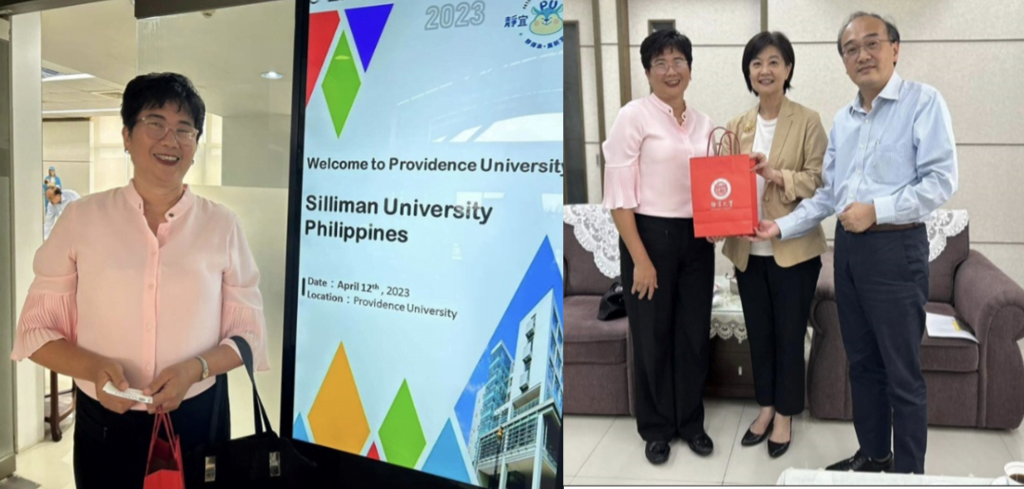 From the very first day of my visit, I was already greeted with fruitful discussions on diverse topics including student exchange, international internships, and collaborations on research and development. This was followed by a very productive tour of Providence University's Luking Library. I had the opportunity to catch new ideas on the utilization and innovative implementation and use of floor space. These would generate ideas, as Silliman is currently embarking on a massive Library Modernization project. Day-1 is capped with a tour of PU's Department of Applied Science laboratories and discussed research on semiconductors, Taiwan's biggest technological industry, and cell technology, as well as the possibility of international internships for Engineering and Physics students. The following day went on with another set of meetings on more collaborations in specific areas of concern and culminated with the honor to be able to sit with the university president for a discussion on strengthening the ties between Providence University and Silliman University. I have extended my heartfelt gratitude to Dr. Lucia Lin, PU's President, for their hospitality and continued active support for ACUCA which has enabled programs like the FMS to bridge universities from all over Asia.
What made this trip extra productive was the fact that I was able to visit not only the host university but other institutions as well. I proceeded to Tunghai University on my third day in Taiwan. Besides the expected discussion on inter-university collaboration in areas such as student exchange, internships, and research, I also enjoyed a tour of their library which features a state-of-the-art recording studio for online classes and presentations, which also utilizes computer-generated imagery (CGI) technology. I also took notes on their best practices in managing student dormitories, useful as Silliman University operates several on-campus dormitories catering to hundreds of students, including international students.


On the same day, from Tunghai, I departed for New Taipei, ahead of my visit to Ming Chi University of Technology, the only non-ACUCA institution in the itinerary. Two full-time faculty members of Silliman, Professors Manaay and Montecillo, are pursuing their PhD in Physics at MCUT and purposely included this visit as my way of reciprocating their visit to Silliman University last March 2023. On the 4th day of my stay in Taiwan, I met with the President of MCUT and personally received the signed Memorandum of Understanding between our institutions, formalizing our relations. I am glad to learn that SU faculty members at MCUT are performing very well and in fact, we were asked to encourage more learners to study at MCUT via internships or their graduate programs. It was a full day at MCUT as we toured their campus, highlighting their facilities and laboratories with cutting-edge technology for use in various disciplines but with particular emphasis on the field of engineering, for which they are widely known. Of interest was the new and modern 5-story gymnasium. The building maximized the use of natural light and ventilation, safety features, and equipment. I also learned so much about the history of the university itself, as well as the many best practices of MCUT when it comes to research collaborations, especially with industry and government, and how Taiwan universities in general are grappling with the effects of a declining population which has left many schools closed and college enrollment at record lows.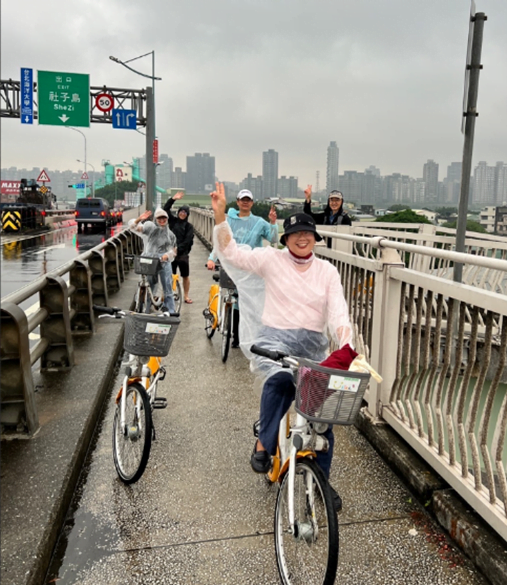 I bid farewell to our friends at MCUT and proceeded to Fu Jen Catholic University along with Professors Manaay and Montecillo who have done nothing but impress the professors at both MCUT. We were accompanied by no less than the distinguished professor from Fu Jen's Department of Physics and Institute of Applied Science and Engineering, Chi-Shun Tiu. Following the ultra-hectic schedule from April 11 to 14, I was blessed with a day for rest and reflection. On the 15th, a Saturday, Professors Manaay, Montecillo and I were invited to go on a bike tour of Taiwan and got to enjoy and appreciate the beauty of what the Portuguese had called Ilha Formosa, or "beautiful island". We took this opportunity to see modern infrastructure amidst the natural flora of Taiwan. On the 16th, a Sunday, I took the time to attend the worship service at Fu Jen Catholic University where I met with Filipino students, faculty, and their families.
Manic Monday very soon came and this time I was off to Chang Jung Christian University. Much like Silliman University, CJCU is also doing its part in reducing its carbon footprint in an attempt to lessen the impact of university operations on the environment, and from this discussion we are now looking at pursuing research collaborations in green initiatives– this is the highlight from this part of the itinerary. CJCU has also extended its invitation to Silliman University to join them in celebrating its 30th year as a university, as well as an invitation for student exchange and internship. I also got the opportunity to visit their newly renovated cafeteria which features modern furnishings including those from the well-known Swedish brand, IKEA. I took some notes on this particular part of the visit to CJCU as SU also operates a cafeteria that caters not only to the university but the greater Dumaguete City community as well.

From CJCU, I went to the last stop in my Taiwan itinerary, Chung Yuan Christian University, the biggest among the universities I have visited, boasting some 16,000 students enrolled at the tertiary level. We shared our notes on our best practices in alumni relations and discussed student exchange and internships, and scholarships. I appreciate CYCU's approach to nurturing its graduates and former students, especially after leaving the halls of the university. It was a privileged to be given a campus tour wherein they showcased many of their modern facilities including their library, their integration of PWD-friendly rooms and large common study areas in their dormitories, their gymnasium, and a new rubberized oval track. Our takeaway from this campus tour is the fact that the buildings at CYCU have been designed to take advantage of natural light and efficient ventilation.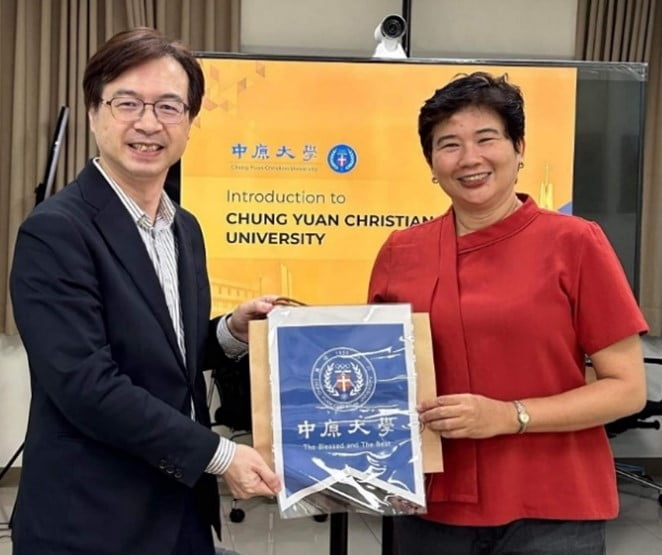 I finally said goodbye to the beautiful island of Taiwan, its beautiful people, and the very warm hospitality of our partners including my host, Providence University. I arrived safely back home in Dumaguete on the 19th of April.
Let me end with this:
Benjamin Franklin once said, "Tell me and I forget. Teach me and I remember. Involve me and I learn." This quote, as straightforward as it is, is able to encapsulate the experience I had during my brief 10-day visit to Taiwan under the Faculty Mobility Scheme of the Association of Christian Universities and Colleges in Asia (ACUCA).
As a university with the core mission of instilling competence, character, and faith among the Silliman community, it is our duty to constantly pursue progress and seek ways to better uphold our goals; one of which is benchmarking.
To summarize, my 10-day trip to Taiwan allowed me to explore, indulge, and learn from the best practices of six high-performing and prestigious schools in the country– Providence University, Tunghai University, Ming Chi University of Technology, Fu Jen Catholic University, Chang Jung Christian University, and Chang Yuan Christian University. There, I was able to meet inspiring individuals, gain new friends, create meaningful connections, and take away effective systems in fostering development in various university sectors.
The most notable example of the latter would be the various methods to upscale a library through the addition of unique features such as exhibition areas, collaborative open spaces, and a music appreciation room as seen in the Luking Library at Providence University. On the other hand, Tunghai University boasts itself with the latest addition to its library, a studio for recording online classes and presentations; complete with a green background, state-of-the-art audio, and lighting equipment. The Silliman Library can also adopt the way MCUT displays and showcases its history and founders and reinvent the Sillimaniana collection. Its new and modern gymnasium that adopts green architecture and safety features for students engaging in various sports is something to emulate.
Furthermore, I also noted diverse ways in which we can improve not only the quality of living but also the opportunities available to the Silliman studentry. One common strength I noticed by the aforementioned universities is their focus on providing exchange student and internship programs to universities and entities capable of imparting unique learning experiences to the students. This not only allows the students to gain insightful experience but also allows the university to cement its relationship with partner universities and other entities. Additionally, the said universities were also particular in improving the dormitory life of the students by equipping them with avenues where they can attend to their personal needs such as food and laundry among others, in a more self-sufficient and cost-effective manner. It can further be noted that strong Alumni relations play a significant role in improving the facilities of a university thus such should be placed in greater importance.
I have gained a fruitful amount of insights but it does not come without a cost. Packed schedules, navigating Taiwan's public transport system that was actually efficient but being new to the place, I had to figure it out. The whole ten-day visit involved a lot of traveling from one place to another, doing as many as 5 bus and train transfers while lugging a 25k bag. The strong Wi-Fi in public spaces really helped me a lot in getting to the right locations
However, due to the assistance and prompt action of supportive individuals and offices, problems turned into solutions. I would like to thank the following individuals who made my trip to Taiwan a success. Ms. Lilia Samson Huang, whom I met at PU, and his Taiwanese husband. They were kind enough to orient me on the culture of Taiwan and teach me how to navigate its bus transport system. Having Lilia accompany me at PU made me feel at ease. I would also like to thank Prof. Manaay and Montecillo for a very insightful visit to MCUT. Both ladies impressed their MCUT professors with their work, and MCUT is very interested to have more Filipino scholars and interns working with them. Frances, Riza, and Glynnis, staff of the VPD Office worked hard to make my travel arrangements and coordinated my complex visit with all the schools in Taiwan. I wish to thank Silliman President McCann for endorsing my participation in the ACUCA Faculty Mobility Scheme which opened my eyes to many exciting possibilities for Silliman. And to all officers and staff of universities I visited in Taiwan, my heartfelt appreciation for your generosity in sharing your best practices and for welcoming me to their campuses.
It is not every day that we are provided with opportunities to learn and grow thus, when such a door opens, it is no longer an option, but rather an obligation to open that very door. In 10 days, I was involved and thus, I learned. It is my earnest hope that I will be able to apply all of the significant information that was passed on to me for the benefit of the studentry, the faculty, and the entire Silliman community.
Chang Yuan Christian University
Providence University
Tunghai University
Chang Jung Christian University
Ming Chi University of Technology